The last time I wrote an article like this on Sincerely, E was June 2018.
Maybe you're intrigued by the life of someone who works full-time/runs a business/writes on a blog/studies at uni, which is why you're reading what I have to say. Maybe you like the style I write in – I call it sarcastically creative. Maybe you know me from high school and just want to see where I ended up. Whatever the reason is you're here, I appreciate you coming along for the ride.
It's been a hectic almost 12 months since I last gave a run-down of my life. I swapped degrees at university and now I'm studying to become a journalist, which is completely mind-blowing for me. I didn't think I would ever get to achieve this dream after leaving college with no marks or entry points to get into uni – I just shoved a writing career under the rug. And yet, here we are! The rug has flipped over and I'm on my way to becoming a journo. I took a social media hiatus for a while to clear my head, get stuck into my study and succeed at my job as best as I could. I 10/10 recommend taking a break from the digital world, it's the most refreshing experience I've had in a long time.
People tend to ask me how I fit everything in, and it's a very good question. The answer is… I have no f**king clue! The weeks pass me by without ever feeling like they've happened. I tend to only get time for study in my lunch breaks at work, and I'm extremely fortunate to have a team of staff at En Vogue who are capable of looking after themselves without the boss having to step in (I've never called myself 'boss' before.. And I don't think I'll do it again). I'm tired most of the time, but with coffee in hand and keeping an extremely positive mindset, it's a piece of cake. Ooh, cake…
You may be wondering what a busy 20-year-old gets up to in their spare time. Maybe partying and going out with friends? Here are some things I do in my spare time:
Binge-watch

The Bold Type

and

Younger

on Stan (o.b.s.e.s.s.e.d)

Read the Harry Potter series (#3 is the best one)

Order pizza every time I'm hungry because

I can't cook

(this is a fact)

Smell my new books and magazines (very normal thing to do)

Watch repeats of

Ru Paul's Drag Race

(if

Silky Nutmeg Ganache

doesn't go home next then I

quit

watching drag race).
In my June 2018 update, Riley and I had just adopted Tyga, our gorgeous kitty from the RSPCA. About 6 months into life with our new roommate, he decided to explore the gardens across the road, and came back with a completely shattered leg after being hit by a car. I very sincerely appreciate the work of vets, but I must admit that Riley and I spent both our savings to put Tyga into intense surgery and save his life. We just couldn't live without him! So, now it's us and our three-legged, hobbling friend – and we wouldn't have it any other way.
It's true what your teachers tell you when you're growing up, life does flash before your eyes when you get older! I have always been the kind of person who loves changing things up all the time, whether it be a new project, a new job, just anything new and exciting. For once, I am actually happy sitting still for a minute or two. I love my job and the study I'm doing, the business is great, and I'm surrounded by the best possible friends and family in the world! I must give a little shout-out to my lovely Mum, who is also absolutely killing life lately. She was recently appointed Deputy Mayor of our local council, works with disadvantaged students in high schools during the day, is a radio announcer at night and is also the Events Manager for my business. What. A. Weapon.
Amidst uni assignments and everything else, I would love nothing more than to be actively posting more articles on Sincerely, E. If you would to be reading a certain genre from me in particular, shout out and let me know. I really write for myself, I find it therapeutic to share these things with you. But I would love to hear from you, too. Don't be shy!
P.S. Last month I went to Melbourne with my best friend to see Billie Eilish live and holy moly, I had goosebumps the entire show and almost cried when she came on stage (One Direction concert throwback). I fan-girled so hard until I remembered she's 4 years younger than me and that's a little weird.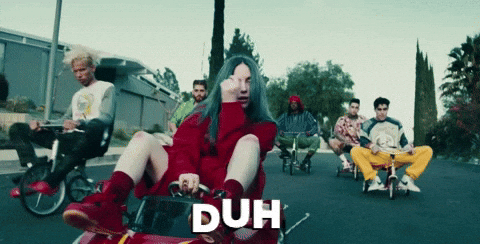 Until next time,